CJGA Linkster Tour ends Weekend at Oakville's Executive Course
Oakville, Ont. (May 9, 2016) –the Canadian Junior Linkster Series played an impressive round on the Mystic Ridge course at Oakville's Executive Golf Course. CJGA Linkster golfers competed against one another in eight separate divisions ranging from ages 5 – 14.
Bantam Boys (U15)
Member of CJGA for five years, Will Bellamy, 13, from Perth, Ont., fired a round of 65 (+2) allowing him to earn the Bantam Boys division title, seven strokes ahead of the competition.
Cyril Engleby, 14, from Georgetown, Ont., and Ryan Hogan, 14, from Burlington Ont., both carded a round of 72 (+9) to take home the second place title for the Bantam Boys division.
Peewee Girls (13)
Vanessa Borovilos, 10, from Toronto, Ont., fired an impressive round with 69 (+1) to bring home the Peewee Girls division title.
Sharing a hometown with Borovilos, Kelly Zhao, 10, came into the runner up position with a round of 74 (+6).
Peewee Boys (13)
Richmond Hill native, Andre Zhu, 9, carded a round total of 66 (+3).
Garvey Knapp, 11, from Mississauga, followed behind Zhu with a round total of 70 (+7).
Atom Girls (U11)
Emily McKee 9, from Oakville, Ont., won the Atom Girls division with a tournament score of 108.
Also from Oakville, Sarah Yang, 9, followed two strokes behind with a round score of 110.
Atom Boys (U11)
Atom Boys division winner was CJGA member of two years, Ryan Zhao, 9, from Toronto Ont. Zhao finished the round with a total of 85.
Tied for second, Azeem Manzoor, 10, from Oakville Ont., and Carter White, 9, from North York, both fired a round total of 88
Novice Girls (U9)
Angela Wang, 7, from Markham Ont., posted a round total of 40 (+6) giving her the Novice Girls division title.
Runner up for the Novice Girls division was, Francesca Ampil, 7, from Brampton Ont. Ampil finished the round with a total of 59.
Novice Boys (U9)
Toronto Ont., golfer, Ethan Borovilos, 7, fired a round of 35 (+1) claiming his first CJGA win.
Two strokes behind, Finn Foster, 8, from Brantford took second place with a round total 36 (+2).
About Canadian Junior Golf Association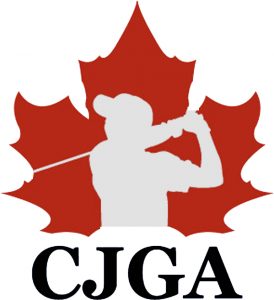 The Canadian Junior Golf Association (CJGA) is a "registered Canadian amateur athletic association" (RCAAA) not-for-profit registered federally with Revenue Canada. The CJGA is dedicated to providing Canada's junior golfers with the necessary skills and knowledge required to lay a foundation for a future in competitive golf.
Through its six-stage competitive development program that focuses on tournaments, clinics, international competitions, and mentoring programs with PGA Tour professionals, the CJGA introduces the game to juniors as young as five and offers competitive multi-day events for the more advanced golfer. The CJGA acts as a feeder system to provincial and national competitions, collegiate and university golf, as well as professional and recreational golf.
For more information, please visit www.cjga.com
Its National Partner, Freedom 55 Financial, which provides financial security advice and planning for Canadians, generously supports the Canadian Junior Golf Association.
For Additional Information:
Jordyn Battista
CJGA Communications Assistant
1.877.508.1069
jordyn.battista@cjga.com