CJGA Members and Alumni Highlight Golf Canada National Team Selections
The Canadian Junior Golf Association (CJGA) would like to congratulate Golf Canada and the young men and women recently selected to the Canadian National and Development teams. In total, 20 athletes were selected to represent Canada between the two squads, all of which were touched by the CJGA, whether current or past members.
Highlighting the list of athletes is Burlington, Ontario native Blair Hamilton, now a senior at the University of Houston and the 2015 Gary Cowan Award winner (low amateur at the RBC Canadian Open). Hamilton represented the CJGA twice internationally, competing in the Stephen Ames Cup both in Trinidad (2010) and Canada (2011). This is his second year representing Canada as part of the national team.
Returning to the Canadian National team are Eric Banks of Truro, N.S. and Hugo Bernard of Mont-Saint-Hilaire, Quebec. Banks was named to the National team in 2012 and 2013, while Bernard will count on his experience as a member of the Development team in 2013. Both players competed on the CJGA while growing up, and have one career victory each. Joining these veterans are newcomers Jared du Toit of Kimberley, B.C. and Stuart Macdonald of Vancouver, BC. Both players honed their skills in CJGA tournaments, with du Toit winning the 2012 Johnny Bucyk Junior Golf Championships.
On the women's side, the CJGA is well represented by Michelle Kim of Surrey, B.C., Naomi Ko of Victoria B.C., and Jaclyn Lee of Calgary, Alberta. Lee is a three-time CJGA champion, while Kim claimed victory earlier this season at the CJGA Western Canadian Junior Championship. Rounding out the women's squad are Josée Doyon from St-Georges-de-Beauce, Quebec and Maddie Szeryk from Allen, Texas. Doyon played one season on the CJGA, while Szeryk was the champion of the inaugural AJGA/CJGA Junior Championship in 2013.
Returning to the Canadian Development men's team for a second consecutive year is Tony Gil of Vaughn, Ontario. Starting his career as a Linkster, Gil represented the CJGA three times internationally, competing in the Canadian International Junior Challenge in consecutive years, and travelling to China to play in the Aaron Baddeley Junior Golf Championships. Gil's CJGA career was highlighted by winning both the team and individual competition at the 2013 Canadian International Junior Challenge.
Rounding out the Men's Development team are A.J. Ewart of Coquitlam, B.C., Alexander Smith of Calgary, Alberta, Charles-Éric Bélanger of Québec, Quebec, and Thomas "Jack" Simpson of Aurora, Ontario. All players are regulars on the CJGA Junior Tour. Ewart had a remarkable season on the circuit in 2013, winning a total of five events. Bélanger is a regular at the CJGA Quebec Junior Open, and has never finished outside of the top three. Simpson had a great 2015 season, and surely used his experience as the Boys 14 & Under champion at the 2013 Mizuno National Junior Golf Championship as a springboard to success. Finally, Smith has not finished outside of the top three so far this season, winning the CJGA Alberta season opener back in May.
Similar to the men, the Women's Development team has only one returning player in Grace St.-Germain of Ottawa, Ontario. Germain had a great season, highlighted by her record-breaking victory at the 2015 CJGA Mizuno National Junior Golf Championship. Germain won by an astounding 28-strokes, finishing eight-under par. Joining Germain on the squad is Mississauga native Chloë Currie. Currie has played with the CJGA for many years, representing them at the US Kids Golf World Championship at Pinehurst on more than on occasion. British Columbians Hannah Lee of Surrey, Tiffany Kong of Vancouver, and Kathrine Chan of Richmond round out the squad. All three regularly compete against one another on the CJGA Junior Tour in British Columbia.
Complete bios for all Team Canada members can be found here.
WOMEN'S NATIONAL AMATEUR SQUAD
Maddie Szeryk, Allen, Texas (19)
Josée Doyon, St-Georges-de-Beauce, Que. (22)
Michelle Kim, Surrey, B.C. (18)
Naomi Ko, Victoria, B.C. (18)
Jaclyn Lee, Calgary, Alta. (18)
MEN'S NATIONAL AMATEUR SQUAD
Blair Hamilton, Burlington, Ont. (22)
Jared du Toit, Kimberley, B.C. (20)
Eric Banks, Truro, N.S. (22)
Stuart Macdonald, Vancouver, B.C. (20)
Hugo Bernard, Mont-Saint-Hilaire, Que. (20)
WOMEN'S DEVELOPMENT SQUAD
Grace St-Germain, Ottawa, Ont. (17)
Hannah Lee, Surrey, B.C. (15)
Tiffany Kong, Vancouver, B.C. (14)
Kathrine Chan, Richmond, B.C. (15)
Chloë Currie, Mississauga, Ont. (15)
MEN'S DEVELOPMENT SQUAD
Tony Gil, Vaughan, Ont. (17)
A.J. Ewart, Coquitlam, B.C. (16)
Thomas 'Jack' Simpson, Aurora, Ont. (17)
Alexander Smith, Calgary, Alta. (17)
Charles-Éric Bélanger, Québec, Que. (16)
About the Canadian Junior Golf Association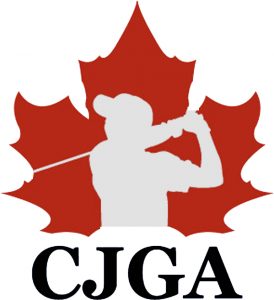 The Canadian Junior Golf Association (CJGA) is a "registered Canadian amateur athletic association" (RCAAA) not-for-profit registered federally with Revenue Canada. The CJGA is dedicated to providing Canada's junior golfers with the necessary skills and knowledge required to lay a foundation for a future in competitive golf.
Through its six-stage competitive development program that focuses on tournaments, clinics, international competitions, and mentoring programs with PGA Tour professionals, the CJGA introduces the game to juniors as young as five and offers competitive multi-day events for the more advanced golfer. The CJGA acts as a feeder system to provincial and national competitions, collegiate and university golf, as well as professional and recreational golf. For more information please visit cjga.com
The Canadian Junior Golf Association is generously supported by its National Partner, Freedom 55 Financial, which provides financial security advice and planning for Canadians.
For Additional Information
Akash Patel
Tournament Operations Coordinator
Canadian Junior Golf Association
akash.patel@cjga.com