Low Scores Across the Board at the CJGA Junior Tour Event in Chilliwack
Chilliwack, B.C. – While Brooke Henderson was sinking the final putt to win the Women's LPGA championship, the next generation of Canadian junior golfers were huddled around the TV watching, after finishing their final round in the Canadian Junior Golf Association (CJGA) Chilliwack Junior Open tournament at the Chilliwack Golf Course.
Henderson's results are an inspiration to every young golfer in Canada who know that for some, 'the dream will come true.' Henderson, 18, developed her skills while playing CJGA tournaments in Ontario and has catapulted to one of the top women golfers in the world.
Juvenile Girls (U-17)
Richmond golfer, Karen Zhang, won the Juvenile Girls division and her third CJGA title after rounds of 75 (+3), 78 (+6), for a tournament total of 153.
"I had a lot of up-and-downs," explained Zhang, 15, while watching her golf idol Henderson win the playoff over Lydia Ko. "I could've hit the ball better and I wasn't hitting the greens. But my short game and putting was good."
Surrey's Angel Lin finished second after shooting 81, 78, for a two-day total of 159.
Junior Girls (U-19)
Another young golfer with a dream to be one of the game's best is 13-year old Vancouver golfer, Victoria Liu. Liu won the Junior Girls division shooting rounds of 76 (+4) 75 (+3) for a two-day total of 151.
Liu has won numerous CJGA titles in the Bantam Girls division with the Chilliwack Junior title her first in the Junior girls division. Liu finished her second round with a putt for eagle on the par-five finishing hole. "I hit a good drive and then hit my second to the back of the green. I was putting for eagle and then had a tap-in for birdie."
Vancouver's Bethany Man finished second shooting 87, 82, 169.
Bantam Girls (U-15)
Maple Ridge golfer, Amy Ehlert claimed another CJGA title winning the Bantam Girls division in the Chilliwack Junior Open shooting 80, 83, for a weekend total of 163.
Abbotsford golfer, Rachel Chung finished second after posting rounds of 94, 82, giving her a weekend total of 176.
Junior Boys (U-19)
Before Saturday's first round, Tanvir Kahlon was worried about a persistent head cold and how it would affect his play. After Sunday's final round, Kahlon still had the head cold but he also had his second CJGA Junior Boys division title shooting consistent rounds of 70 (-2), 70 (-2) for an overall total of 140.
"This win is really important to me," explained Kahlon, Native to New Delhi, India, but has since relocated with his family to Surrey, B.C. "I feel like I am ready for the B.C. Junior tournament next month on Vancouver Island, it means a lot to me."
Juvenile Boys (U-17)
Surrey golfer, Henry Lei, won the Juvenile Boys division in the Chilliwack Junior Open firing rounds of 76 (+4), 73 (+1) for a tournament total of 149.
"I was sold today, lots of pars and I stayed really patient," explained Lei. "I was thinking my way through every shot and I played my own game. I wasn't worried about what anyone else was doing. I crushed my drive on the last hole, maybe 310 yards and it set me up for my next shot to the green for a two putt par."
Delta golfer, John Morrow finished second, carding rounds of 78 (+6), 74 (+2) giving him a two-round total of 152.
Bantam Boys (U-15)
Burnaby golfer Leo Harper plays with good results every tournament. Harper won his second CJGA title carding rounds of 72 (E), 69 (-3) for a tournament total of 141 to win the Bantam Boys division Chilliwack Junior title.
"My ball striking was really solid and my putting was good," explained Harper. "Sixty-nine is my best tournament score ever. I kept my focus on the game and didn't let anything get to me."
Ilirian Zalli from Vancouver finished a close second with rounds of 75-68-143.
-30-
About Canadian Junior Golf Association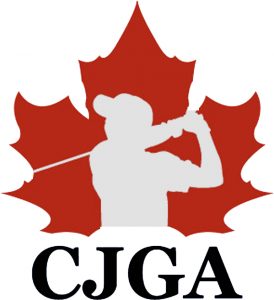 The Canadian Junior Golf Association (CJGA) is a "registered Canadian amateur athletic association" (RCAAA) not-for-profit registered federally with Revenue Canada. The CJGA is dedicated to providing Canada's junior golfers with the necessary skills and knowledge required to lay a foundation for a future in competitive golf.
Through its six-stage competitive development program that focuses on tournaments, clinics, international competitions, and mentoring programs with PGA Tour professionals, the CJGA introduces the game to juniors as young as five and offers competitive multi-day events for the more advanced golfer. The CJGA acts as a feeder system to provincial and national competitions, collegiate and university golf, as well as professional and recreational golf.
For more information, please visit www.cjga.com
Its National Partner, Freedom 55 Financial, which provides financial security advice and planning for Canadians, generously supports the Canadian Junior Golf Association. 
For Additional Information:
Brad Ewart
BC Tournament Director
Brad.ewart@cjga.com