Morgan Creek GC Set to Welcome CJGA Juniors on Weekend

-First of Eight Nike Golf Junior Series events nationally-
Surrey, B.C. (March 19, 2015) – Morgan Creek Golf Course in Surrey, B.C. is preparing to welcome a full field of juniors over the weekend as the Canadian Junior Golf Association (CJGA) Nike Golf Junior Series is set to play March 21-22. The event is the first of eight national Nike Golf Junior Series events which culminate in the Nike Golf Junior Championship at the end of the season.
Morgan Creek, selected British Columbia's "Golf Facility of the Year" and one of Golf Digest's "Places to Play", welcomes all golfers to their premier public South Surrey golf course located in the Lower Mainland. The Clubhouse is nestled in a natural setting with spectacular views of the golf course and the mountains of Vancouver.
This is the third CJGA event in the province to date with each of the first two events showcasing exemplary play. With the exception of the light showers forecasted for Saturday morning, the rest of the weekend's forecast should provide the juniors with excellent playing conditions.
With another full field taking to the course on the weekend, another strong field of juniors will be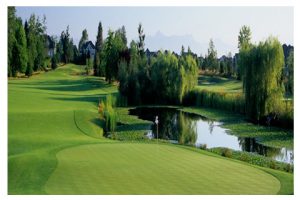 competing for their divisional titles and a coveted invitation to the Nike Golf Junior Championship. Some juniors to keep an eye on are AJ Ewart (15), Roy Kang (16), Jae Wook Lee (15), Khan Lee (15), Vivian Lee (15), Victoria Lui (12), Daniel Sun (14), and Charles Thompson (17).
Schedule of Events:
March 21 – First Round – 12noon – 2:14pm (first tee)
March 22 – Final Round – 12noon – 2:14pm (first tee)
Awards Ceremony – 7:00pm
Tournament Information: CJGA Nike Golf Junior Series @ Morgan Creek
About Nike Golf Canada
Based in Thornhill, Ontario, Nike Golf Canada markets, sells and distributes industry leading Nike Golf equipment, apparel, balls, footwear, bags and accessories throughout Canada. Nike Golf is passionately dedicated to honoring and respecting the traditions and heritage of the game, and to providing committed golfers with the best equipment in the game. For more information on Nike Golf Canada, visit www.nikegolf.ca.
To follow Nike Golf on Twitter visit www.twitter.com/nikegolf and to become a fan on Facebook go to www.facebook.com/nikegolf. Journalists seeking editorial information and images, visit www.nikegolf.com/presscenter.
Canadian Junior Golf Association
The Canadian Junior Golf Association (CJGA) is a "registered Canadian amateur athletic association" (RCAAA) not-for-profit registered federally with Revenue Canada. The CJGA is dedicated to providing Canada's junior golfers with the necessary skills and knowledge required to lay a foundation for a future in competitive golf.
Through its six-stage competitive development program that focuses on tournaments, clinics, international competitions, and mentoring programs with PGA Tour professionals, the CJGA introduces the game to juniors as young as five and offers competitive multi-day events for the more advanced golfer. The CJGA acts as a feeder system to provincial and national competitions, collegiate and university golf, as well as professional and recreational golf. For more information please visit www.cjga.com.
The Canadian Junior Golf Association is generously supported by its National Partner, Freedom 55 Financial, which provides financial security advice and planning for Canadians.
For Additional Information:
Brad Ewart
BC Tournament Director
Canadian Junior Golf Association
brad.ewart@cjga.com