Team Canada Closes The Gap on Team USA Entering Singles Matches
Toronto, ON (July 11th, 2017) –  It was a very exciting and intense second round of the North America Cup at Weston Golf Club on Tuesday morning. With the great weather conditions players on both teams were scoring well which kept the matches close right to the very end. Some clutch putts by CJGA Team Canada ultimately gave them the 3-2 lead on the day to only trail IJGT Team USA by two points heading into Wednesday mornings single matches.
Vincent Poirier and Luca Ferrara of Team Canada were paired up again on Tuesday for the foursome matches as they were the only members of Team Canada to earn a point yesterday. The partnership continued where it left off as Poirier and Ferrara were able to close out American teammates Mikee Ordona and Patrick Sheehan on the 14th hole to win 4&3.
Andy Luo and Jakob Lemieux were also paired together for the second day in a row as the duo has been building chemistry on and off the golf course. Luo and Lemieux ran into an inform Team USA pairing of Neal Shipley and James Meyers who were also paired for the second day in a row. Shipley and Meyers were able to give the Americans their first point of the day winning their match 3&1.
The third match of the day was an up and down match, with both teams holding leads throughout the round. Cardwell and Parsons of Team Canada were able to sink some clutch putts to give Team Canada another point on the day as they won 2&1 over Team USA members Cole Berger and Jack Cornforth. Cardwell enjoyed playing with Parsons on day two, "James is very consistent, he was a good person to be paired with because he would calm me down in big moments and we could talk about the shots and process a game plan", commented Ethan in a post round interview.
Graeme Edwards and Jackson Rothwell gave Team Canada the third point of the day as they edged Americans Jaden Weisman and Chase Phillips, winning 2UP on the 18th hole in front of a large gallery and teammates. "We looked at the score card last night to decide our order, we picked out which tee shots we each wanted to hit then determined I would go with the odd holes because the even holes fit Jacksons draw better," explained Edwards in the clubhouse post round. Their strategy paid off as they were able to close the Americans lead to two entering the final round.
Ashley Chow and Erin Kim of Team Canada were paired again together during the second round foursomes. They were matched up against Team USA members, Sarah Perine and Sonia Mistry who were able to defeat the Canadians 3&2. Putting was the difference in the match as both teams look forward to the single matches tomorrow morning.
Team Canada captain Cody Kotva was pleased with the results from the team today, "Our goal in mind today was at least three points, and all the matches were extremely close. The team did a great job, it was stressful but we have a good chance to win entering tomorrow". The final round single matches will determine which team will hoist the 15th annual North America Cup. Team Canada needs 6.5 points tomorrow to clinch the cup and Team USA needs 4 points to retain the trophy. It should be a very entertaining morning as Team Canada looks to complete the comeback.
The final round single matches will begin at 8:00am Wednesday morning. The single match ups are below: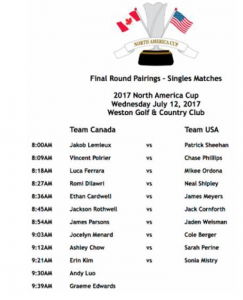 About the Canadian Junior Golf Association
The Canadian Junior Golf Association (CJGA) is a "registered Canadian amateur athletic association" (RCAAA) not-for-profit registered federally with Revenue Canada. Currently in its 25th year, the CJGA is dedicated to providing Canada's junior golfers with the necessary skills and knowledge required to lay a foundation for a future in competitive golf.
Through its six-stage competitive development program that focuses on tournaments, clinics, international competitions, and mentoring programs with PGA Tour professionals, the CJGA introduces the game to juniors as young as five and offers competitive multi-day events for the more advanced golfer. The CJGA acts as a feeder system to provincial and national competitions, collegiate and university golf, as well as professional and recreational golf. For more information, please visit www.cjga.com.
The Canadian Junior Golf Association is generously supported by its National Partner, Freedom 55 Financial, which provides financial security advice and planning for Canadians.
For Additional Information:
Trevor Vander Glas
Communications and Media Assistant
1.877.508.1069
trevor.vander.glas@cjga.com